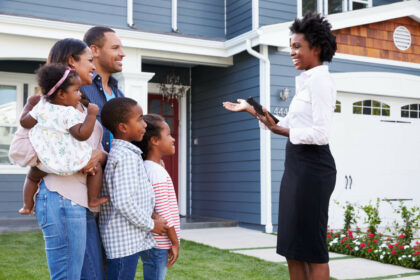 The competition in the real estate market has always been tough. Real estate agents are always looking for new and innovative ways to find potential leads. With the help of technology, it is easier than ever before to generate impressive results with lead generation.

However, there are some lead generation ideas that most realtors don't consider effective enough to implement. These ideas might actually help realtors generate more leads.Let's take a look at some of the most underrated lead generation ideas that real estate agents should consider implementing into their business strategy today!
Starting a BlogBlogging can be an excellent way to share your expertise in the industry. Remember, you need traffic coming from search engines in order for this idea to work well so include keywords throughout your posts and blog about topics related to real estate.
This will not only give your real estate business more credibility but will also let you generate leads through viewership. You can talk about the current listings on the market. So the more people that see your content, the higher your chances of getting a sale.
Create a Referral ProgramA referral program is an easy way to generate leads by using the power of word-of-mouth. Make sure you give your clients something in return for recommending your business to their friends or family.
When people know that they would also get a commission from the sales if they just refer a potential buyer to you then they would most likely be on the lookout for potential buyers which is a great way to generate leads for your business.
Take Advantage of Social Media ToolsI know what you're thinking – social media is not a good lead generation tool for real estate right? Wrong! It's actually one of the best ways that can help real estate agents generate leads, provided it's done correctly.
You need to create captivating posts on Facebook or Twitter about things related to your market niche. This includes statistics, news stories, etc., which are likely going to be shared amongst potential prospects within your target audience. Just make sure these posts include links to your listings and your contact information on these posts.
Sponsor a House Warming Party for the ClientsAnother great way to generate leads is to sponsor a house warming party for the clients. Let your clientele know that if they go along with the purchase then you will finance their house warming party to a certain level. This will show that you care about your clients and they will be more than delighted to work with you than any other realtor in the market.
Direct Mail MarketingDirect mail marketing is one of the most important methods of lead generation for realtors. Statistics show that direct mail marketing has an ROI of more than 29% for the real estate industry.
The best part about doing direct mail marketing in the current world is that there is a range of different ways you can implement direct mail marketing strategies for your real estate business. You can go with the traditional method of sending out letters and postcards or you could even try targeted banner ads. In addition to that, you can also send leaflets to the clients.
Another powerful way of performing direct mail marketing is through billboards. You can also create an automated direct mail marketing system where mails and marketing material are automatically sent to the client. Email marketing may not be tangible in nature but it is also considered the modern equivalent when integrated with traditional marketing.
Check Expired ListingCheck listings that expired more than a year ago without a successful sale taking place. The sale may have been thwarted by many different reasons however the owners may still be looking to sell the place. So you can capitalize on this opportunity that the previous realtor missed.
Never Skip out on Networking EventsNetworking is one of the most important aspects of every business.  It is very important for realtors as well. So if there are local networking events for realtors taking place then you shouldn't "under any circumstances" skip that event. Proper networking for realtors generates a lot of strong leads.
Build a Real Estate Brand Instead of Personal BrandYou might have heard before that personal branding is the new real estate marketing strategy. However, there are many pitfalls of trying to build a brand based on your personality.
Instead, you should focus on building a brand for your company that can help you generate more leads in the long run as compared to some random name with no reputation backing it up.
Newspaper AdvertisementsYou might think newspapers are a thing of the past however you would be surprised to know how strong newspaper advertisements actually are. Newspapers are still very important for realtors as they can help you generate leads from a wide range of people.
Give ads about your business and the current listings you are managing in the newspaper along with your contact information. You are bound to get a few calls from this that you might have otherwise missed.
These are just some of the lead generation ideas that can help realtors find a lot of great leads. So if you are someone who is struggling to get more clients then maybe it's time for you to try these ideas that most modern realtors don't think about implementing.
02
Valpak Celebrates Consumers With Targeted Event Postcards
ST. PETERSBURG, Fla., Dec. 10, 2021 /PRNewswire/ — Valpak, the company that delivers the Blue Envelope of Savings to millions of mailboxes each month, continues to innovate in the direct mail space. Building on the success of their neighborhood-targeted postcards, Valpak recently unveiled a new automated monthly mailer that transforms life events into opportunities for connection: Event Postcards.
Valpak's newest product is designed to create memorable moments between consumers and local businesses around specific life events: moving, buying a home, celebrating a birthday or aging into Medicare. It leverages data and demographics to narrow the audience by location, age, income level and more. Advertisers simply choose their audience focus, ZIP code(s), quantity, life event and ad template and Valpak returns a 6″x9″ postcard with customized messaging to a new audience each month. Because Event Postcards are automated and turnkey, mailing lists, design, postage and personalization (where available) are all included at one low rate.
Drives Consumer Engagement
Beyond convenience, the effectiveness of life event-specific postcard advertising is supported by consumer behavior. In a March 2021 survey, 64% of respondents indicated they change all or some service providers after relocating or purchasing a home. Valpak's "New Mover" Event Postcards enable businesses to cost-effectively mail "Welcome, new neighbor" offers targeted to new homeowners or new movers.
Similarly, Valpak's "Birthday Mailer" Event Postcards utilize household-level age and income demographics to profile a business's best prospects. Consumers want to receive birthday offers in the mail, with 83% agreeing that mail addressed to them for their birthday is appealing and 87% indicating they would likely redeem a personalized birthday postcard offer.
With roughly 10,000 Americans aging into Medicare each day, Valpak also saw a need to develop an audience focus to reach eligible seniors in search of benefits and plan comparisons. Health care agents and insurance providers can now leverage "Medicare" Event Postcards to establish themselves as trusted advisors available to help consumers navigate everything from aging in and open enrollment to supplemental and life insurance.
Valpak CEO Chris Cate shares, "If your business is looking to connect with consumers in a meaningful way, these mailings are an exceptional choice. They let your audience know you're thinking of them during important life events, and we can design a program to fit any budget or marketing plan. Plus, they're automated, which takes the guesswork out of it. With a personalized approach and high rate of engagement, Event Postcards are a win-win for consumers and businesses alike."
Whether consumers in your neighborhood are making moves, ready to celebrate or entering a new stage of life, bringing direct mail outreach to them during specific life events is a proven and personalized way for your business to get its name out there. For more information on advertising with Valpak Event Postcards, visit valpak.com/advertise/postcards-event.
About Valpak Valpak is the nation's premier direct mailer, trusted by 34,000 businesses to drive sales and brand awareness through easy-to-measure, results-oriented advertising solutions that work. For more than 50 years, Valpak has introduced millions of consumers to exciting local business offers and opportunities. Our network of nearly 140 local offices provides unparalleled customer service and market knowledge to business owners in thousands of neighborhoods across the U.S. Each month, our Blue Envelope of savings mails to more than 41 million demographically targeted households in 42 states. Contact us today at valpak.com/advertise to see what Valpak Direct Marketing can do for your business.
Valpak Media Contact Tanya Creel Director, Marketing & Communications Valpak 727-399-3068 [email protected]