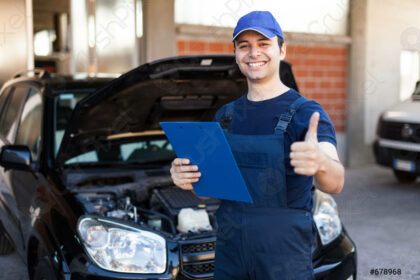 A story about how I realized that I now have brand loyalty, and how it came about…
The other day, my daughter car was making a funny noise.. So I messed around with it myself for a little bit, failed and decided to take it to my trusted mechanic. Where else would I take it? 
I took it to the mechanic, they called me about 4 hours later with the verdict and what was wrong with the car, and then he told me that it would be about a week before the part that they needed comes in, so we need to get a rental, or haul my daughter around ourselves for a week. 
Later that day I was at work, telling my buddy what happened to my daughters car, and he said "a week? That's kinda long, you should take it to my guy, he can get the part in, in about a day." I thought, "wow, it would be nice not to have to haul her to all of her practices and clubs for a whole week, and pay daily to have her car sit there." but then the thought quickly went out of my head, and I told my buddy, "we'll manage for a week." after a snooty "Suit yourself." I thought to myself, why am I so loyal to this guy? And then I remember around every other month or so, my wife puts a new card up on the fridge with my mechanics business card hanging from it. Everytime we get a new card from him wishing us a Happy Groundhogs Day or something silly, we chat about it and it always brings a smile to our faces. He must spend a lot of time sending those cards out! And those cards definitely make us keep coming back to him, because he is always at the top of our minds! 
Not only have those cards made us keep coming back, but they have made him a lot of money from referrals, because we refer everyone we know with car troubles to him! 
Are we loyal to his brand because he send business thank you cards? I have never really seen business thank you cards like the ones he sends, they are so personal and hand-signed every single time. I am starting to think that he might be some kind of genius, because I have never seen business thank you cards like these. 
I am a business owner myself, and I even started sending business thank you cards. I used to spend so much money on facebook and google ads, but ever since I asked my mechanic about those business thank you cards that he sends, I have not had to spend any good money on pumping out ads with low conversion rates. It is so easy to automate those business thank you cards, and it definitely creates brand loyalty, as well as referral rates, I started asking people how they heard of my business long before I started sending business thank you cards, and they would always give me a vague answer like "google" because the truth is, through ads, they didn't really know how they had ran across me either. Ever since I started sending business thank you cards, people tell me "Oh! Amy Crossland told me about you!" Or "Oh, my mom uses you! She gave me 2 of your business cards, one for me and one to give out to those looking for services that you offer!" 
I can honestly say that I am an absolute advocate for sending business thank you cards now, and it is all thanks to my mechanic, thanks Michael!