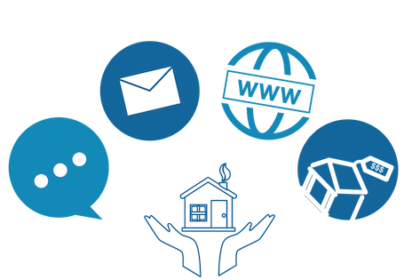 Today social media is seen by many to be the largest marketing source on the globe.  Big or small, all businesses can benefit from a strong social presence.  For the global real estate market the importance of social media cannot be overstated. In fact, the National Association of Realtors recently reported that 99% of Millennials and 90% of Baby Boomers start their home search online.
Great, but how can a real estate business use social media to grow?  Focus your time and energy on social media marketing that make sense.  Whether you are a newbie in the industry or looking for additional leads to expand, below we have provided a few social media platforms which may help to grow your real estate business.
First, Facebook for realtors. Why? Facebook remains the marketing essential for real estate agents because of Facebook's user demographics which enable essential real estate data such as business age and income to find your target audience.  For example, on the single Facebook platform a business can publish listing related updates, communicate with customers, book appointments, curate reviews.  Plus, Facebook ads allow you to directly target users and demographics who have shown specific interest in buying property in your area.
Next, LinkedIn.  It is a great forum to network with fellow realtors and show off your industry experience.  LinkedIn allows you to post your digital resume and share business opportunities in the real estate market.
Now to Instagram.  Booming at the present time due to popular content and stylish property photos.  Instagram has recently become a priority for luxury or boutique real estate businesses.
Now that we know the networks, let's move on to what to post to grow and engage in the real estate market.  Remember, being sales-y and beating your followers over the head with sales pitches are the marketing annoyances of the real estate realm of ago and definitively not today. Here are some real estate marketing ideas:
Property Photos
Social media for real estate is HUGE.  High resolution property photos are both stunning and key.  Eye popping photos encourage "likes" and shares and entice followers to get in touch with you.  Get creative with your online marketing photos!  Plus, photo-based real estate posts are designed to sell as they also provide text outlining property details and contact information.
Success Stories And Client Testimonials
These posts build a sense of social proof and show off the human side of your real estate business.  Making your customers happy upon viewing your social media postings is always a plus.
Industry And Market News
Show that you remain an active participant in the ever changing real estate world.  Helpful content, industry reports and event coverage as well as highlights of your real estate business' relevant and timely awards and accolades are all great to show users that you remain a force in the real estate market.
Home Improvement And Renovation Ideas.
Educational content serves both prospective buyers and past clients alike.  Remodel ideas and inspiration speak to a wide range of users and once again highlight your real estate know how.
New Listings And Properties.
Don't just drop a link to a listing and walk away.  Post multiple photos with contact information for each listing! Keep your real estate postings from becoming boring and usual.
With so many people flocking to social media for real estate, it is the prime place to prospect and generate leads.  For social networking referrals and growth check out www.resurgereferral.com
They are a proven real estate referral and support system!