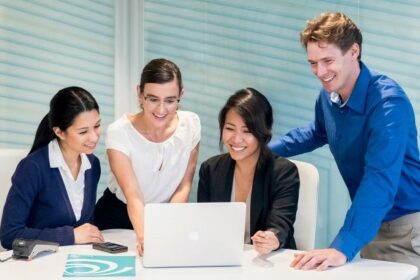 How many times have you wanted to send someone a card but just couldn't find the time? Or maybe you didn't want to pay those ridiculous prices that greeting card companies charge. In both cases, we've got the solution for you! Our site lets you send cards online anytime, anywhere, and at reasonable prices! Use these 10 reasons to send cards online and get your friends and family thinking about how cool it would be to get an e-card from you next time!
1) Sending Cards Online is Easy
Ordering a greeting card online means you don't have to leave your house. In fact, you can often even have it delivered on a specific date and time. Online gift shops also make sending large quantities of cards fast and easy. Shipping is often free, too, which means you don't pay any extra fees for bulk ordering – and no more running out of birthday cards at inopportune times!
2) Sending Cards Online Is Convenient
Sending a card doesn't have to involve waiting in line at a drugstore or buying an overpriced Hallmark card at Walmart. With postcards, you can customize your message and get it delivered anywhere in days instead of weeks. It's convenient for both you and your recipient!
3) Sending Cards Online Can Improve Relationships
A lot of people have trouble keeping in touch with friends, family, and loved ones. They feel as though they can't find an appropriate way to do so, or that it's just not important. However, these are some of your most cherished relationships and they deserve respect. Sending cards can be a good way to keep in touch with these relationships while showing them you care. And since they don't take too much time or energy, you can easily send cards anytime!
4) Sending Cards Online Improves Your Brand
Handwritten notes are memorable and your customers will appreciate your dedication. Try sending a hand-written thank you note at least once per month. Your recipients will feel that extra effort and remember you as an individual brand. Companies that make handwritten notes a priority can build trust and loyalty with their customers. After all, if it's in your budget, why not give every customer that VIP treatment? Sending Cards Online Promotes Holidays: Holiday greetings can be crucial for getting through busy periods of time.
5) Ordering Cards Online Saves You Time
Sending a card via postal mail or in person takes time. Ordering a card from an online store means you can click and wait rather than go out and buy a card. And depending on where you're sending it, it could take days or weeks for your card to arrive at its destination. Online shops provide more urgency, allowing buyers to choose options that ship out within days (if not hours) of ordering.
6) Ordering Cards Online Gives You Lots of Options
Online greeting card stores are a great place to buy birthday cards for grandma because you can choose from thousands of different designs. Some cards have photos, some have uplifting quotes and some have just really beautiful typography. Regardless of your style, there is an option that is right for you. When it comes time to actually order, many sites let you upload your own images and even personalize your own greetings.
7) Sending Cards Online Helps Create Memories
Birthday cards are one of my favorite gifts, but I know that many people don't feel as strongly about them. Sending a birthday card doesn't just let your loved ones know you're thinking of them—it also helps preserve memories. When you sign your name on a card and drop it in a mailbox, part of you goes with it. Your handwriting is included in their keepsake collection, and that handwritten signature makes your gift even more special. See pricing here:
8) Sending Cards Online Keeps Things Green
Sending a card might not sound like it's all that eco-friendly, but consider that while they may not be recyclable, most cards are made from post-consumer recycled materials. The Postal Service also offers postage stamps made from 20 percent post-consumer recycled fiber. Cards can actually go even greener than stamps in some cases; many companies offer completely biodegradable options for those who want to have an even smaller carbon footprint.
9) Ordering Cards Online Offers Customization Options
When it comes to sending greeting cards, why settle for an average card when you can make it a special one? Online card companies offer customization options that allow you to choose your message and add pictures or video right onto your greeting card. They'll even print and mail them out for you. recamp.com
10) Ordering cards online helps keep shipping costs down
Whether you're mailing from a local post office or a far-off land, there are no shipping costs if you use an e-card service. And depending on where you live and how much postage your card requires, it could be significantly cheaper than any traditional postal mailings. This is especially true for large envelopes that require a higher shipping rate. recamp.com